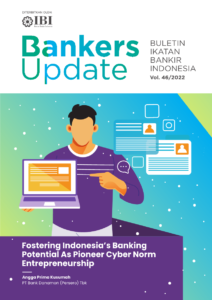 Oleh: Angga Prima Kusumah
PT Bank Danamon (Persero) Tbk
"The rate of cybercrime increased by 600% during the COVID-19 pandemic" [1]. In the first
half of 2021, financial service web apps were attacked 17.6 million times, which was 38% increase
from the 11.7 million cyber-attack incidents in 2020 [2]. The financial industry was attacked 300
times more frequent than other industries [3] and banks were attacked 983 times on a daily basis
by cyber-attacks [4]. A 2021 NTT study shows that the financial industry worldwide suffered the
largest financial losses in 2020 [5] and it was estimated to be around USD 100 million, equivalent
to IDR 1,420 trillion, which is the average annual financial loss caused by cyber-attacks [6]. In
Indonesia, the estimated loss of public banks due to cyber-attacks was around IDR 246,5 billion
from the first half of 2020 to the first half of 2021 [6].
Further research claims that the covid-19 era has been the catalyst for the growth of 21
million new digital consumers in Indonesia, contributing to a total of 201 million active internet
users in 2021 [7], and 72% of them are based in the rural areas [8]. It reveals that 98% of digital
merchants accept digital payments and are more tech-savvy. They also argue that the internet
economy in Indonesia is the largest in ASEAN, forecasted to reach USD 70 billion in 2021 and USD
146 billion in 2025. The aforementioned facts support the assertion that digitalization in
Indonesia is coming up with huge economic potential, expanding quickly, and spreading both in
the metropolitan and countryside areas, with a 73.7% internet penetration level [9]. The
succeeding questions, however, will be to what extent are our societies fully aware about cyber
risks and immediately adapt in this fast-growing digitalization era? How can the banking industry
get both the advantage and contribute to a more tech-savvy societies?
To respond to the potential cyber coercions, the Indonesian government participated in the
United Nation's Open-Ended Working Group (OEWG) to govern all stakeholders, including banking
and civil society, and to collaborate and engage in preventing cyber threats, which are believed to
pose serious impact to people's livelihood in the future [10]. Therefore, taking into account the
increased number of cyber-crimes, the rapid growth of digitalization, and the need for private
companies to take part in cyber-security, banking in Indonesia has the potential to pioneer cyber
norm entrepreneurship.